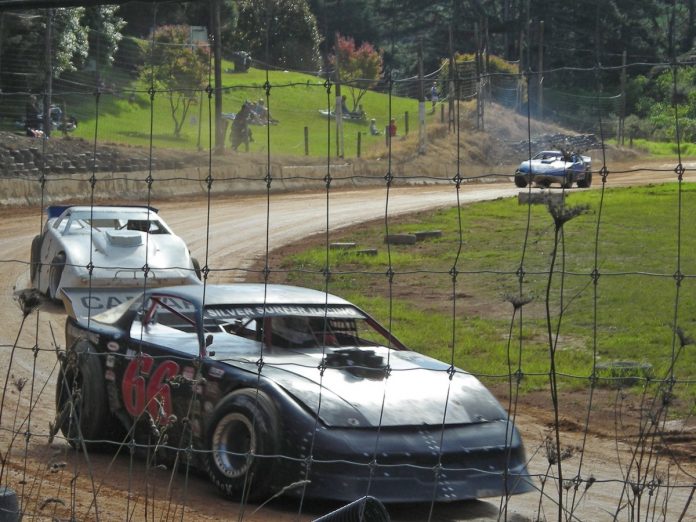 Waiheke Dirt Track Club's last race meeting for the season drew a small field but it was a fun race meeting. We started late with Taz Corinaldi having to dash off for a fuel line.
The Super A class ran fast all day with Taz in car 71 having one win, Peter Chapple in car 3 two wins and Bruce Beaumont in car 66 two wins.
The Super Bs had Mike Jeffery blitzing the others most of the day with three wins and letting Paul Delautour drive his car in one of them. Alysha McPhail had a couple of hick ups but managed a win and a couple of seconds. Delwyn Phillips in car 333 kept spinning out but he let Paul Delautour drive his car and got a first. James Magee also had a drive of car 333.
In the Super Cs, car 44 with James Bugg and Mike Kininmonth raced in the first round but not for long due to over heating problems. Mudgee Daren in car 138 had a passenger all day from Waiuku, Taryn, who loved it so much she will be out next season with a car of her own. Mudgee had a win, three seconds and a third. James Magee was leader all day with four wins and a second.
Sian Green drove James Magee's car in the Ladies races with two firsts. Ronnie Robertson was on the track for the first time, loving it in car 138 and Sue Morris came out in car 333 for one race. Hally Kirk in car 06 had heaps of practice, being our only Junior.
Waiheke Dirt Track Club thanks all the volunteers without whom racing would not be possible. Also a big thank you to the crowd that comes to watch each meet and cheer on the drivers.
Racing will be back in October. If you are interested in getting a car together or want to know how to get your children from the age of 13 years racing in Juniors we would love to hear from you.
The club is looking for new members and it is a great day out with a fantastic group of people. Phone Taz our President 021 371 797 or Amanda 372 6574. Also, the club has raffles every Thursday night from 5pm at the Woolshed all are welcome.   Donna Roth