Having set a New Zealand race walking record in Athletics last year, Alana Barber is about to compete in the Rio Olympic Games.
Since her family bought a house on Waiheke a few years ago, the island is Ms Barber's favourite training location.
"From the first time I learned about the Olympic Games I knew I wanted to be a part of them," she says.
Her mother was a middle distance runner who represented New Zealand in the 800m final at the 1974 Commonwealth Games. Shirley Barber (nee Somervell) later ran under the Olympic standard for Montreal but injury meant she could not compete.
"Finishing off what she never did was an ambition of mine from a young age."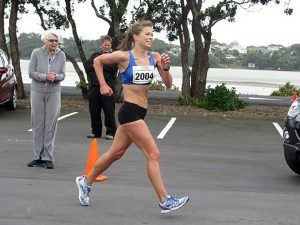 Ms Barber had dabbled in a few sports such as rowing and running but a knee injury that restricted her from running got her into race walking.
"I tried race walking as a way to keep fit. I never went back to competing seriously in any other sport."
Between travelling around the world for training and competitions, the 29-year-old race walker trains on Waiheke.
---
"My favourite place is Blackpool. I have a three-kilometre circuit there and sometimes do up to 24 kilometres around it. I can place my drink bottle on the side of the road to get regularly fluid in me – although sometimes I find a tidy local throws my bottle in the bin before I get to it."
---
Training on a loop is all part of the physical and mental preparation for her event, she says.
"Race walking competitions are usually done on flat courses, often circuits, which is why Blackpool is ideal. I have had residents watch from their houses and cheer every time I walk past. They must think I'm crazy."
Ms Barber trains at various locations around the world but when she is on Waiheke her coach and training partners are not with her.
The Waiheke Harriers make up for this though, she says.
"Some of the members run next to me on long walks and tempo sessions."
The Olympic Games begin on Friday 5 August. Ms Barber is spending the last five weeks of the run-up to the world's pinnacle sporting event preparing in San Moritz, Switzerland.
Ms Barber's race will be held on 20 August, 5.30am NZ time. • Mark Peters