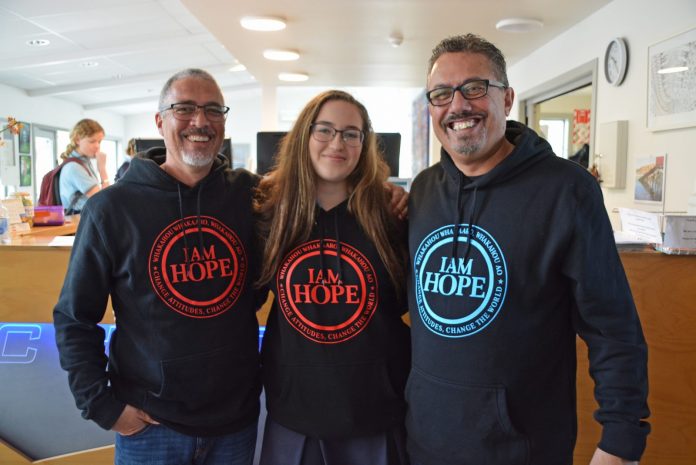 Many a joke about his massive head was made when Mike King took to the stage at the Waiheke High School hall on Wednesday last week.
As the founder and ambassador of The Key to Life Charitable Trust, King has many years experience educating youth about mental health and the presentation was much more than just jokes.
He shared his own experiences with bullying growing up, and students and teachers listened and got involved whenever he asked; "Raise your hand if … "
Especially when he asked the students with an inner critic to raise their hands, when a forest of hands came up.
"The only thing that can defeat an inner critic is a friend or a mate," King said. "Not family; they have to love you. It's in the contract," he followed up for a laugh.
Turning the conversation to mental health, he had an important message to give.
"The secret to good mental health is not looking out for yourself, it's looking out for other people – it's lifting them up and reminding them why they're important in your life."
He challenged the students to lift each other up, not just on that day but every day.
Year 12 student Jess Croawell was one of the organisers behind the presentation. At the end of it, she presented King with a check for $1485 – money raised by Waiheke High students for The Key to Life Charitable Trust.
The trust is a community peer support group, aiming to forever change the way New Zealanders think, act and feel about mental health and suicide.
With a long-term goal of a zero suicide rate in New Zealand, the trust has since its formation in 2010 conducted nationwide digital communities, regular meetings and clinics, advocacy and educational programmes.
See more on keytolife.org.nz 
• Emma Haas