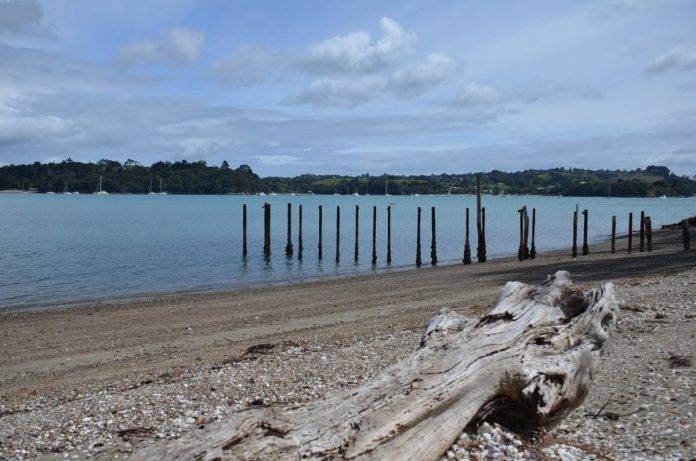 Can homelessness exist in paradise? Waiheke may be listed as a top tourist destination but it is also an island where rents are soaring and more people are struggling to find a place to call home.
Gulf News reporter Rose Davis finds out about a growing problem.
---
Rents on Waiheke are out of reach of many working people, as well as those on benefits, says Living Without Violence client services coordinator Moira McGuinness.
"Every week, I'm meeting people who have to find accommodation and simply can't.
"It's an ongoing, continual struggle for people. There is not enough money to pay the rents that are expected.
"Normal, ordinary working people have been given notice and can't afford to stay on the island," says Ms McGuinness.
Some people who are forced to leave are long-term residents, who have forged strong connections or have family on the island, and had hoped to live on Waiheke "forever".
With rents high in Auckland too, it can be difficult to know where to go.
"It's like people are going to have to go to the west coast of the South Island.
"I grieve for the people who are having to pack their bags and leave the island," she says.
Many Waiheke tenants are not protected by formal rent agreements and are evicted with little notice "and there's only so much couch surfing people with children can do".
Ms McGuinness is a member of the steering committee of Waiheke Hope Centre, which manages the emergency accommodation and soup kitchen at Living Waters church in Surfdale, and says the temporary housing is providing a vital service.
"The realistic thing we can do is help people who are in emergency situations. It would be wonderful if there could be some money coming in from the government or council to help with emergency housing.
"I know people we have had through Living Without Violence and if Living Waters' emergency accommodation had not been here, I don't know where they would have gone."
Many working people's incomes are "way too low" and Ms McGuiness says the minimum wage should be $20 an hour.
---
A recent report to Waiheke Local Board notes that 200 to 500 people live in poor quality housing, tents, vehicles or boats on the island and don't have access to potable drinking water.
---
Last year, 57 people stayed in the emergency accommodation at Living Waters Church in Surfdale, says coordinator Wiremu Te Taniwha.
"There is a myth that Waiheke is the playground for the rich and famous and we have to dispel that myth.
"There are locals who are really struggling, yet Waiheke is promoted to the world as the place to come," he says.
Those who stayed in the four units last year included 26 men, 14 women and 17 children.
"There is still a huge need. People are struggling. The cost of living on the island is so high that a lot of families are hurting.
"We've got people couch surfing all over the place.
"It's unacceptable that families and children are living in their cars over winter. Surely we can do better as a community," says Mr Te Taniwha.
Five people stayed in the emergency accommodation for one night, 21 were there for a week, eight stayed for a month, and 11 have lived there for more than three months.
Living Waters also runs a soup kitchen on Mondays at midday and this has become increasingly popular, with as many as 40 people coming to eat some days.
"We have an open door drop in for coffee and people are eating here throughout the week."
The soup kitchen has started running a pickup service, with a van collecting passengers from Ostend RSA at 11.30am on Mondays.
Food is donated by Ringawera and Franco's bakeries, Cable Bay and Goldie vineyards, and Waiheke Fruit and Veg in Oneroa, while Hazel Rachtman regularly makes desserts.
Waiheke Red Cross, Piritahi Marae and the New Hope Shop also make donations to support the soup kitchen. •
---
Tenants grateful for emergency housing
As Rachel* talks about becoming homeless in January, she keeps repeating that she never expected it to happen to her.
The single mother came to Waiheke two years ago to work as a chef and was earning $1100 a week in the hand, putting in long hours, before the strain on her body and emotions became too much.
Suffering from a back injury and depression, she left her job and soon found she was struggling to afford the rent on the house she lived in with her 16-year-old daughter in Orapiu.
"I ended up getting kicked out by the landlord because I owed too much money. I had nowhere to go.
"When Living Waters told me I had a room I cried," says the 37-year-old.
She turned to the emergency accommodation at Living Waters church in Surfdale as a "last resort" and has been staying there for the past few months.
---
    Being homeless feels like I'm an epic failure…
it's embarrassing.


– Rachel
---
Rachel has a one-bedroom unit that she shares with her daughter, and uses shared bathroom and kitchen facilities.
Although she is grateful to have a safe, affordable place to live, staying in emergency accommodation has taken a toll on her sense of dignity.
"Being homeless feels like I'm an epic failure…it's embarrassing. And I feel stuck here in a way. There's no choice – it's like I have to take what I get."
Rachel is unable to work full time and receives $390 a week in total on the WINZ sickness benefit to care for herself and her daughter.
"All I want is a sleepout – two bedrooms would be ideal," she says.
However, Rachel has been unable to find anywhere she can afford, finding that rents are $400 to $500 a week, more than her weekly income.
Leaving the island is an option she is considering, but not until her daughter has finished high school at the end of this year.
She has been staying in the emergency accommodation since January and doesn't know how long she can stay.
"I don't want to stay here too long because there are so many other people that need the space as well, but what are you meant to do?"
Seeing empty holiday homes and Auckland Council buildings on the island seems bizarre for those who know that housing on Waiheke is beyond the reach of many.
"In this community, you're either rich or poor.
"There are so many houses just empty, there is a whole empty backpackers, some halls are only half used and the bowling club is empty. There are empty buildings everywhere, how come there are so many homeless people or people struggling to get into a house with a $2500 bond?
"Where is someone in my position going to find $2500 for bond?"
Rachel suggests that the old Kina backpackers could be turned into a residents' hostel for people who need somewhere to sleep or eat.
"They should have a caravan park or have more support at Living Waters for people who need housing."
She knows plenty of others who are struggling to afford housing on Waiheke, including a working man who is living in a car and people living in overcrowded conditions.
"I know five adults and four children who are living in a three bedroom house and three of the adults work.
"Another couple with three kids have had to move in with her father."
Although the past few months have been difficult, she has also found a silver lining in a bleak period.
She is enjoying the support of the people at Living Waters, is able to pay off some of her debts, and has a fabulous view over Surfdale Beach.
A former partner assaulted her so severely that he was given a prison sentence, and since moving to the temporary accommodation, she has been referred to Living Without Violence and is seeing a counsellor.
Rachel is helping in the soup kitchen and has joined the steering committee of Waiheke Hope Centre, which manages the emergency accommodation and soup kitchen.
"I've got involved in helping because I'm really grateful. This is the last place I thought I would end up.
"I want to help other people who are in this situation. It's given me a new direction.
"My stress levels and my mental health are much better.
"The knowledge that there is help and there are ways, this place, these people – I just feel very lucky," she says.
Warwick Allen is another island resident who feels lucky to be able to have a solid roof over the heads of his family of five when they stay at the emergency accommodation in Surfdale.
Warwick and his wife and three daughters, a five-year-old and twin four-year-olds, have been camping at the section they bought at Orapiu since January.
During heavy rain, staying in a family sized tent, a pop-up tent on a trailer, and an unlined hut is not entirely pleasant, so the family has used the emergency housing about 10 times in the past month.
Warwick's eldest daughter has an autoimmune disorder that causes bleeding and his wife suffers from asthma and is susceptible to bronchitis, so camping long-term in all weather poses a risk for their health.
"It's hard, but we're used to hard. We just get on with it," he says.
Warwick commutes to Auckland, where he works in IT support, while his wife, who is an artist, stays on the island with the children and possibly bears the brunt of the hardships of life in tents, he says.
The family moved to the island a year ago, partly because the island is closer to hospitals in Auckland than their previous home in Algies Bay.
After grabbing the chance to buy their Orapiu section, the couple found that banks were unwilling to lend money for the affordable, ready-made house they plan to move to the land.
The banks regard it as a building project and will only release funds in stages, but the construction company wants a lump sum payment for the pre-built house.
"We were hoping to have the money last week, but it hasn't come through. We're exploring different options like second tier lending.
"If we don't get the finance together in the next few days, the house will be sold to someone else, then we will have to wait several months for the next one."
Warwick says the possibility that the money for the house will not come through is "not an option" he has considered.
A Christian, he has faith that "God is always going to provide food and shelter and he blesses his children".
"We always had in mind that if the house did not come through by winter, we would rent somewhere, but you know how hard it is to rent a house on the island," he says.
The family usually stays in the dining area at Living Waters, because the units are not big enough for them all.
"It's not very private, but it's very social," he says.
Ita* moved into the emergency accommodation in Surfdale last June after struggles with rental housing left her feeling suicidal.
The 63-year-old, who is originally from Fiji, moved to Waiheke in 2013 and had been sharing rental houses on the island.
She says she was verbally abused by one housemate, who drank heavily, and she was unable to stay.
She then lived in a friend's sleepout for a month, but left after her friend complained about her using too much power and water.
Ita receives a WINZ sickness benefit, as she suffers from knee and back problems, and says rents on the island are "impossible" to afford.
A Seventh-Day Adventist, she fasted and prayed for a solution to her housing crisis.
Her prayers were answered when a staff member from Piritahi Hau Ora referred her to the emergency housing near the church in Surfdale.
"I thank God I'm still alive. I just wanted to kill myself sometimes. Now I want to live long because I'm happy here.
"I'm so grateful they received me and welcomed me," she says. •
* Some names have been changed in this story.