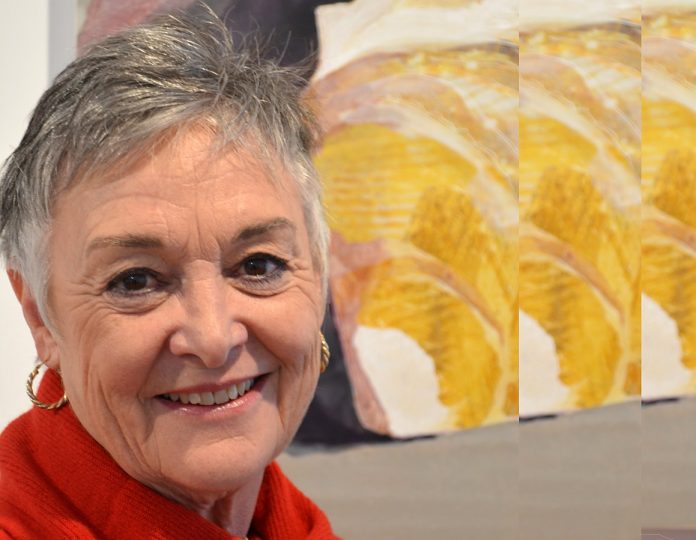 Bubbles have been flowing since Waiheke Community Art Gallery director Linda Chalmers was awarded a Queen's Service Medal on Monday.
"We went out for lunch to celebrate and experienced a mini invasion of our house at about 4.30 in the afternoon with lots of people bringing bottles of bubbly," she says.
Linda was recognised in the Queen's Birthday Honours for her contribution to the arts. In 2006, she moved from Auckland, where she owned a small gallery, to Waiheke and has run the island's gallery for the past 11 years.
Receiving the award was wonderful recognition of the arts and of the volunteers and committee members that give so much to the gallery, she says.
"The arts are sometimes marginalised in favour of sports, so it's important that the arts receive recognition.
"Art is good for the soul – it's all about enriching the soul and providing a different sense of recreation.
"It offers people the opportunity to express themselves or comment in a different way."
Linda hopes the award will help raise the profile of the community gallery, which receives just $10,000 a year from Auckland Council, while similar galleries around Auckland receive up to $80,000.
"We're still at the bottom of the pile in terms of funding. I certainly hope this shines a light on the gallery's achievements and we could look forward to a more sympathetic level of funding that is more commensurate with other community galleries, like Piha and Northart," she says.
Although the island's population is relatively small, more than 50,000 visitors come through the gallery each year.
"Annually, the gallery puts back into the Waiheke community about half a million dollars through payments to artists and businesses," she says.
Having loved art since her school days, Linda originally trained and worked as a journalist, but later gained a post-graduate diploma in arts management from the University of Auckland.
Although she seldom creates art anymore, she describes her role as gallery director as "a wonderful people and action job".
"I enjoy the creativity of presenting new exhibitions and offering opportunities to independent curators.
"The gallery looks to support artists within the community to sustain their practices and to inspire them."
Since Linda took over the helm, the gallery has developed a second national award, adding the Small Sculpture Prize to the Walker and Hall Art Award. A dream of offering residencies has become a reality, with nine artists taking them up so far.
The gallery has acted on advice that it needs to build a permanent collection of works to gain greater funding from the council, with maquettes from headland Sculpture on the Gulf starting the collection.
It runs the Waiheke Winter Arts Festival, hosts summer schools for adults and helps run a two-year diploma course in ceramics.
Linda's vision for the future is to see the gallery get a new, bigger building that can house a permanent collection, run a diploma programme and offer a screening room.
"We all need to look towards a rebuilding of Artworks, creating a new building to match the library and updating the theatre."
She enjoys playing golf and walking and is planning a trip to gain inspiration from galleries in Europe.
"It's important to refresh and get a different perspective and get new ideas for exhibitions."
Another adventure she is looking forward to is making her first trip to Government House in Wellington to receive her Queen's Service Medal later this year.
"It's very humbling that someone has thought to nominate me," she says. "The award is a win for the community." • Rose Davis