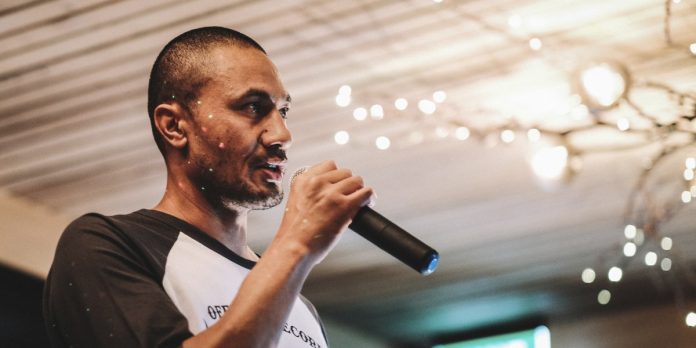 Drum and bass legend Optimus Gryme is hanging up his headphones this month with the final show of his farewell tour taking place on Waiheke on Saturday 28 October.
Optimus, otherwise known as Charlie Brown, moved to Waiheke with his family when 12 years old, so it's a big move for the musician who is relocating to Nelson with wife Penelope Brown and their two children this November.
"It's quite a big thing that we're moving because I always thought I'd be buried on Waiheke.
"I love it here so much but it just feels like it's time to move on. I feel like I've grown as much as I can here."
Charlie grew up playing the guitar, a little bit of piano, and listening to Motown records with his sister to get through some tough times, which can still influence him today when producing his own beats.
"I don't do anything that doesn't have emotion in it. My appreciation of music, or my approach to it when I make a song, it takes whatever I'm feeling and just locks that emotion in time – it's like a time capsule of emotion."
He became obsessed with the drum and bass genre in 1999, when nobody knew what it was.
"New Zealand didn't have anything, Waiheke especially. So I just found a couple of guys on the island who liked it too and we formed this crew called Offbeat Records and basically just ran parties out in the bush."
It didn't surprise Charlie when drum and bass went from underground to the mainstream music scene.
"Anything good gets chewed up and spat out by the mainstream at some point, and it still is good. The amount of times I've heard people say drum and bass is dead – well, nothing good dies and drum and bass is one of the purest forms of electronic music there is."
His national farewell tour kicked off in August, with Waiheke the last date on the schedule.
"The tour has been amazing because it's given people the chance to have closure with me, and for me to have closure with the music.
"People were flying all over the country, booking tickets to multiple shows, and being so heartfelt about how much my music affected their lives."
Charlie says he's worked with nearly every New Zealand musician he looked up to growing up, and performed at the biggest festivals the country has to offer – Rhythm and Vines, Northern Bass, Homegrown, Our House, Splore, Coro Gold, Raggamuffin and Phat.
"I'd be doing the shows, getting flown around doing these tours with the people I spent years idolising. Before I was performing at festivals I was going to them, spending my rent money."
He has remixed with everyone from Shihad to Shapeshifter, Six60, Ladi6, Concord Dawn, The Upbeats, Rhombus, Minuit, Australian legends Dub FX and Tiki Taane, who Charlie says has had the biggest impact on his career.
"It was very surreal hanging out with all these guys, but then over time they became friends."
Charlie says one of the reasons he's giving up the Gryme is the expectation to please promoters and punters at big scale events, rather than focusing on his art.
"I never played music I didn't like but there was always cutting edge music that I wanted to play, and you can't play it to that many people.
"That's one of the reasons I gave it up, I have such a connection with my art and I don't want to compromise it any more."
The multi-talented creative is also a freelance graphic designer and started Go! Waiheke with business partner Henri Smith, a tourism app that is now operating in 28 towns nationwide, and may debut in the wider Pacific later this year.
And while it may be the end for Optimus Gryme, Charlie Brown is continuing his musical journey with the Anxients, another multi-platform project with Henri that includes tribal bass sounds, storytelling, limited showcases, merchandise with a twist, a graphic novel, animation, theatre, and more.
"What I want to do is take ancient rhythms that have been around for millenia and put those rhythms on bass music, it's a living breathing thing.
"My motto and everything I live for is just to create, I feel everyone needs to create."
The Death of Optimus Gryme Tour, with guest Billy Fluid, is on Saturday 28 October at a venue to be confirmed. Tickets are available at www.optimusgryme.co.nz • Safia Archer