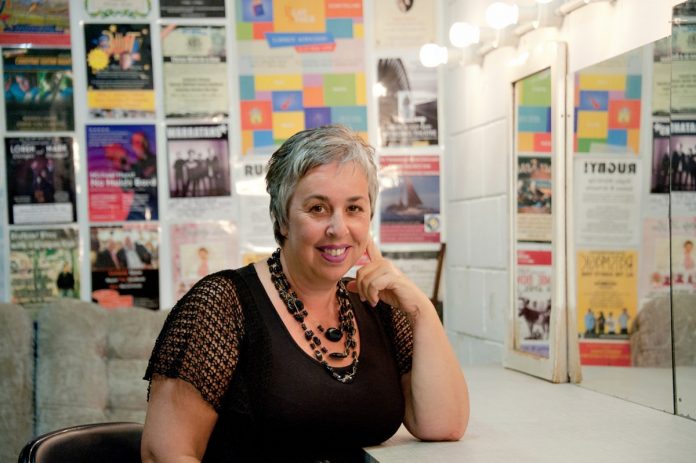 After struggles last year, a forward-thinking strategy and community support will be vital to keeping the theatre going. Anna Ngo reports.
A community fixture since 1991, Artworks Theatre has brought island residents a quarter-century of entertainment: song, dance, laughter and drama.
Last August saw drama of a different kind – plagued by financial troubles, the theatre was unable to retain manager Lisa Garrity. She was reinstated and members of the board stepped down. Now, with a new board in place, the theatre is working hard to turn things around.
Lisa attributes the theatre's difficulties to "growth and speed wobbles".
"We grew very quickly, in members, social media and number of shows. We didn't quite have the process or structure set up to follow it. We tried to work it out, but what we needed to do was go out to the members and ask for help."
Currently, the theatre has 200 members, but Lisa's hope is to drive those numbers up to 500, as demonstrating a strong community interest is vital to securing funding.
The theatre has a strong offering with Dracula, made by the Funnybones team, running over the next two weekends. It is aiming for a 200-plus turnout at its 31 March Circus Dance Extravaganza (see story in What's On). Money raised will go toward the management of the theatre and buying new equipment. Two more fundraisers, a VIP luncheon and a variety show, are also in the works.
A private benefactor temporarily funded Lisa's salary after reading about the theatre's financial woes late last year in Gulf News. "He rang me and said: 'Why didn't you let me know you needed help?' So that actually helped."
Back as manager on a contract basis, Lisa is now dedicating her energy to growing the theatre's membership, applying for grants and planning fund-raising events.
The theatre held focus group meetings on 25 February and 1 March to get public feedback on what's working, what isn't and where it sees the theatre going. The aim is to formulate a strategic vision and ultimately a prospectus to present to potential donors.
On 22 March at 7pm, the theatre will hold its annual general meeting for members only.
"This is going to be the biggest AGM we've had in many years," Lisa says, "mainly because we're looking at adjusting our constitution and having five on the board, not three, so that we get a bigger spread of people." Going forward, board appointees will serve for a minimum two years rather than one.
It also aims to appoint "a strategic treasurer, someone who understands strategic finances, forecasting and planning. We need a really good board who have a variety of skills – people who understand strategy but get community."
Lisa already has several knowledgeable people on her side. Brand expert Raul Sarrot, who was instrumental in the Essentially Waiheke workshops, volunteered to facilitate the focus groups and compile a report to be used for grant applications. "He managed to get a lot of stuff out of people, which is really helpful going forward." Also acting as external advisors are well-known New Zealand actors Michael Hurst and Charlie McDermott.
The focus groups drew a cross-section of people of varied ages and interests. One message was that people wanted less organic marketing over Facebook and more paid marketing through local newspapers. Currently, the theatre relies on word-of-mouth, social media and its newsletter, which goes out to about 1,200 people. "We need to use print media to get to a wider selection of Waiheke people on a regular basis."
People were also keen on having reviewers for every show. To that end, Lisa has already secured the services of two independent writers, who at this stage will remain anonymous. "It's going to be a bit of warts-and-all potentially, but appreciative of those people's work and leaving them feeling encouraged."
Other feedback was that while people wanted better facilities, they were firm that the look and feel of the theatre should remain the same. Specific suggestions included a bathroom in the green room, a better stage, better lighting equipment, more efficient use of space and greater youth involvement.
They're already working on that last point, as 24-year-old Kashmir Postel was recently hired to run the theatre during the day. "She's very much attracting emerging artists and younger people from the island. We also want to be doing more work with the high school."
Another recurring request was a café at the box office, open every day. "If we had Franco's buns, good coffee and you could buy tickets for any event on the island – that's becoming more of a hub.  People can go up to the art gallery, go to Whittaker's and pop into the cinema."
Future plans include a professional series, a Waiheke Own series and emerging artist series. "We want to be tagged on the Auckland Arts Festival, the fringe festivals and the international comedy festivals. There is nothing saying that Waiheke can't be a destination on the touring map."
But not – and that was made very clear at these meetings – at the expense of the community. "Community practitioners get to put their stuff on first. It's a funny little balancing act, but we have to get it right."
Though the recent shakeup was unsettling, Lisa sees the silver lining. "It made people realise, the community realise, how much they care about that theatre, and they all stepped up. I think that was the real positive that came out of it."
Visit www.artworkstheatre.org.nz to nominate board members, buy tickets or become a theatre member for $30 a year. •